Many people across the country are outraged at the how the Dallas police have handled Amber Guyger shooting 26-year-old Botham Shem Jean in his own home. One of the biggest critiques is that it was 72 hours until Guyger was arrested and charged, giving her time to change her already shaky story. Nonetheless, a Black pastor in Dallas is praising the police.
SEE ALSO: Texas Cop Shoots Unarmed Black Man For Entering His Own Truck
According to the Associated Press, Frederick Haynes, pastor of a Baptist church in Dallas and vice president of the African-American Pastors Coalition, said Dallas Police Chief U. Renee Hall, who is a Black woman, "has gone out of her way to communicate not only to the family but also to community leaders and as a consequence that has helped keep calm."
Really? Police attacked Botham Jean protesters with pepper spray, which is clearly is not keeping people calm. Moreover, what is certainly far from calm are the 72 hours Guyger walked free after she shot a man in his own home.
One of the lawyers for the Jean family said at a press conference on Monday, "This is what we were afraid of — when a police officer is allowed to stay on the streets for 72 hours and have access to an attorney. …. It's my understanding that this affidavit was drafted by the Texas Rangers so that was another concern. Why did the Dallas Police Department give it to the Texas Rangers after they already said they had enough information to charge this officer with manslaughter? So in essence, what they did is they gave this investigation to the Texas Rangers and they gave this officer an additional day or two to craft up a story that our client is not here to defend."
See the press conference below:
Jean's family, unlike the pastor, are not happy with how the case is being handled. They have repeatedly said she should have been arrested immediately.
Bothem Shem Jean's funeral is tomorrow. Our condolences go out to his friends and family. See the photo below, courtesy of Shomari Stone from NBC DC.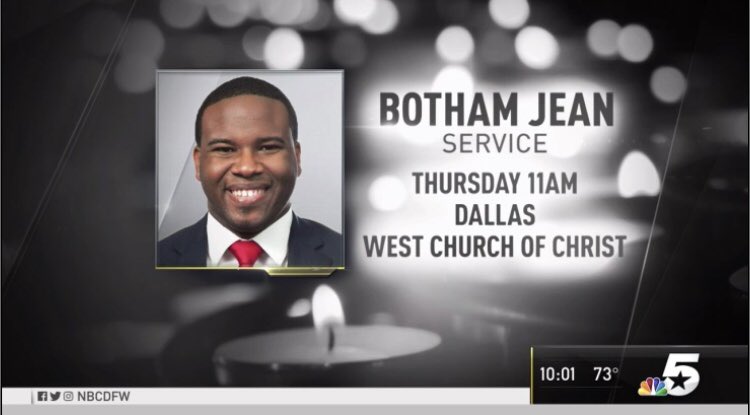 SEE ALSO:
Social Media Says It Has Identified The Dallas Cop Who Shot And Killed A Black Man In His Own Home
Meet Jogger Joe, The Man Who Took Racist Cue From BBQ Becky In Tossing Homeless Man's Clothes
This Colin Kaepernick Retweet Says Everything You Need To Know About The NFL Players' Anthem Grievance
Black Pastor Praises Dallas Police Chief For How She Is Handling Amber Guyger Killing Botham Jean In His Home  was originally published on newsone.com