The hit sitcom Living Single broke boundaries when it debuted in 1993. It was the first time we saw four successful Black women living in all their intricacies. For five seasons, we dated, cried, and laughed with characters Khadijah, Synclaire, Régine, and Max while they navigated the single girls' world.
In celebration of the 23rd anniversary of the iconic show, we remember all the ways Living Single was ahead of its time.
It Showcased Black Women As Entrepreneurs:
As the editor and publisher of the fictional magazine Flavour, Khadijah inspired female journalists, career-driven Black woman, and aspiring entrepreneurs to chase their dreams all the while enjoying the perks of being single.
Régine Had The Wig Game On Lock
Long before Kylie Jenner claimed she made wigs famous, Régine was a proud wig-wearing diva, known for switching up her hair as frequently as she changed underwear.
It Featured An All-Black Cast
Prime time never looked so good. When Living Single debuted in 1993, there were only a few all-Black casts on TV, none of which were led by Black women.
Black Women Living Life Sexually Liberated
Whether you were gushing over Obie and Synclaire's juvenile chemistry or getting your fix when Max shamelessly hooked up with Kyle, watching Black women explore their sexuality on TV was unprecedented.
It Shattered Beauty Stick-Figure Standards
During a time when most actresses were stick-thin, Khadijah shattered beauty standards with her curvy frame.
It Put A Black Female Lawyer On TV
Maxine wasn't just the hungry friend (though she enjoyed eating more than average), she represented so much more. She was a badass, Black attorney and didn't let you forget it.
Black Romance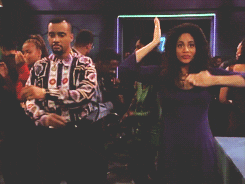 It was hard not to adore Obie and Synclaire's relationship as we watched them grow individually and together every week. Their quirky romance reminded us there's someone out there for everyone.
Being A Successful Career Woman With An Active Dating Life
Contrary to popular belief, being a successful working woman doesn't mean you can't have an active and equally successful dating life. Khadijah never had problems getting a man.
What Black Sisterhood Looks Like
Despite the foolish and catty behavior seen on reality TV today, Living Single portrayed Black women in our natural light: as confidants, hard-workers, and supportive women who uplift one another.
Being Single & Proud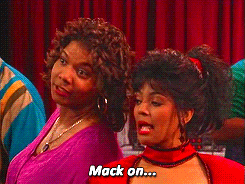 There wasn't an episode of Living Single that didn't provide man candy. From Morris Chestnut to Cress Williams (Scooter), the ladies dated all the fine Black men.
RELATED STORIES:
Watch The Cast Of 'Living Single' Reunite For Kim Coles' Wedding
Was Max Always Snacking On 'Living Single'? Pretty Much! [VIDEO]
10 Ways 'Living Single' Was Way Ahead Of Its Time  was originally published on hellobeautiful.com